Garage Door Repair Battle Ground
Call Us Now 360-713-9802
Garage door repair services for Washington are among our specialties. If you have a garage door that needs fixing, you can leave it to us, as we have technicians who are skilled enough to do the job in the most efficient way possible.
Some of the brands we provide service for:
Genie, Liftmaster, Sears, Craftsman, Allister, Chamberlain, and more!
Address:

S Parkway Ave
Battle Ground

,

Washington
Zip code:

98604
Hours of Operation:
We accept cash, credit cards, and checks.
The best commercial and residential garage door service by the most experienced and well-equipped contractors! We guarantee fast response, same day garage door repair
Our garage door Company is one of the best providers of garage door repair in Battle Ground.
We offer great Automatic garage doors that will enhance the profile of any garage. We offer same day service and our customers love our emergency service. We load our trucks with all the parts a technician could possibly need so that we can finish the job quickly and efficiently.
Everyone can count on the professionalism of our garage door company. With committed technicians and amazing infrastructures, we can really be of assistance whether there are problems or clients want to avoid them. We can prevent issues with regular garage door maintenance and promise thoroughness. We inspect your garage system thoroughly during troubleshooting, as our repair services aim at solving problems. We can fix everything! We can repair every garage door and service electric operators with efficiency. Garage door parts are replaced with diligence and we are masters in the replacement and installation of both garage doors and components.
Our garage door repair Company offers reliable garage door service. We are the best garage door company in Battle Ground. We provide our customers with the best in garage door adjustments and maintenance; we have a well-trained team that will be at your disposal when you need us. Our team offers a regularly scheduled lubrication program that will keep your system in the best of shape.
The most common problem that many of our customers face is with garage door springs, this is normally because of daily wear and tear that causes them to break or come loose. We provide two types of springs namely the torsion spring and extension spring. The one you use will primarily depend upon the size and weight of your garage door.
Our Garage door repair services are popular among Battle Ground customers. Modern materials and manufacturing techniques allow us to make many garage door repairs fast and easy. We also provide our customers with garage door remote systems. They are very helpful and convenient and we also use brands we know our customers can depend on like Genie Intellicode, Liftmaster security plus, Multi code and Clicker.
Our team of workers at our garage door company in Battle Ground believes in providing our customers with nothing but the best in garage door repair service. We are well aware of problems, which could occur such as: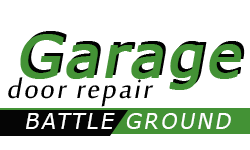 bent garage door tracks
cables that will snap
cables that will come off drum
broken springs
garage door remote repair and
garage door opener repair
Our garage door company in Battle Ground also provides customers with a wide range of glass garage doors to choose from. They are not only beautiful but allow sunlight to pass through making your garage look brighter. They tend to cost more but they add a touch of class that many find hard to resist.
Our garage door company in Battle Ground offers professional garage door installation and replacement from classic wood to aluminum garage doors. Our technicians are highly skilled in providing the best service available for garage door repair, replacement and installation.
Our automatic garage doors are safe and reliable. We set out to be the best garage door contractor in Battle Ground and we feel we have done that. We provide same day garage door service and our staff is always professional and friendly.
About Torsion Spring Replacement
Each and every torsion spring has a fixed cycle life. When the component comes to the end of its life, it will break. There are several signs that will reveal the problem. The first one is loud bang. If you are not at home when the breaking occurs, this will go unnoticed, however. The second most obvious sign is the inability of the opener to open the door despite running. In rare cases, the door may still open, but this will happen extremely slowly. You simply need to reach us and we will replace the broken spring with a new one that has the same specs and great durability. The old component is removed and the new one is fitted in its place. The technician will adjust the spring accurately to ensure the proper operation of the door. In general, there is no need to wait for the spring to break to have it replaced.